The Ultimate Formula 1 Car Driving Experience Package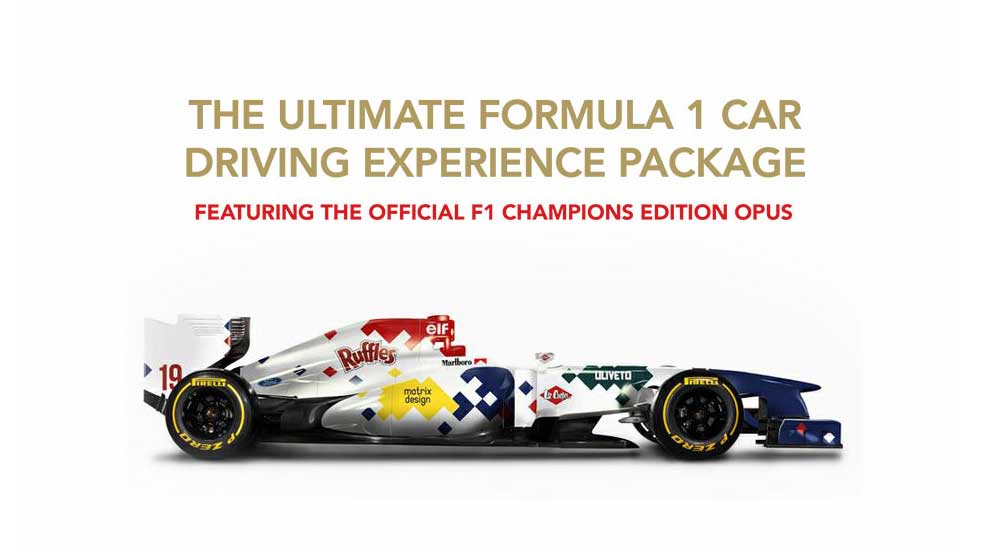 Featuring The Official Formula 1 Opus Champions Editon
This is your chance to own an Ultimate Formula 1 Car Driving Experience featuring cars like the 1994 Arrows FA14 and The Official Formula 1 Opus Champions Edition.
Starts with by five demo laps in a sports saloon, before driving the saloon for ten laps.
Then drive for six miles in both the Aston Martin V8 Vantage and the Ferrari 360.
Then Drive ten laps in a single-seater Formula Ford behind a pace car before enjoying seven un-paced laps.
Then upgrade to a stunning Formula 3 single-seater for ten laps.
The Main Event
Next up is the main event, with ten laps in either the 1996 Italian Forti-Corse FG03 (as driven by Luca Badoer), or the 1994 Arrows FA14 (as driven by Aguri Suzuki). These 600 bhp machines redefine notions of speed and road handling
and provide a huge adrenaline rush.
The day includes VIP Lunch, memorabilia and a Formula 1 certificate are included on this sublime driving experience.
PLUS photographs from your F1 car days experience can be included in our 'Tailor made' for your F1 Opus Champions edition
The Official Formula 1 Champions Edition Opus
Measuring 50cm square, 852 pages long and weighing a staggering 37kg, The Official Formula 1 Opus is the biggest book on Formula One racing ever produced.
This extraordinary collectors' item is individually numbered and personally signed by all living F1 champions including the late Phil Hill, Sir Jack Brabham and the 2016 World Champion Nico Rosberg.
Each copy of the Opus is personally signed by the President and CEO of Formula One Management, Mr. Bernie Ecclestone.
Featuring a cast of F1 legends including Lewis Hamilton, Sir Jack Brabham, Nigel Mansell, Niki Lauda, Kimi Räikkönen, Sir Jackie Stewart, Fernando Alonso, Michael Schumacher, Alain Prost, Ayrton Senna and many more the Opus tells the history of the sport in new depth, with exclusive content and stunning imagery.
Only 3 packages available. Served on a first come first serve basis. Price on application.